If your home was not custom built you likely did not have control over the layout and floor plan. It might mean that you ended up with a closet that is too small, needs more storage space, or isn't designed to your specifications. 
At Closets For Less, we understand the importance of having a custom-made closet that perfectly fits you and your needs. We offer custom closets in Lower Gwynedd, designed to maximize space and provide attractive storage solutions for any home.
You're not alone if you feel you need more closet space. 97% of realtors report that homeowners want closet space more than basement and attic storage.
Fortunately, you don't have to settle for a cramped closet anymore! Our team at Closets For Less offers custom closets in Lower Gwynedd and the surrounding area, giving you a stylish, organized space that suits your needs and lifestyle.
Local. Affordable. Professional.
Design Options for Custom Closets in Lower Gwynedd
Our custom walk-in closets are designed to maximize your storage space and provide an organized, efficient solution for any bedroom. Our designs can be adjusted to fit into any home or office area, creating a customized look. In addition, we use top-of-the-line materials and hardware to ensure that our closets last for years without compromising quality or style.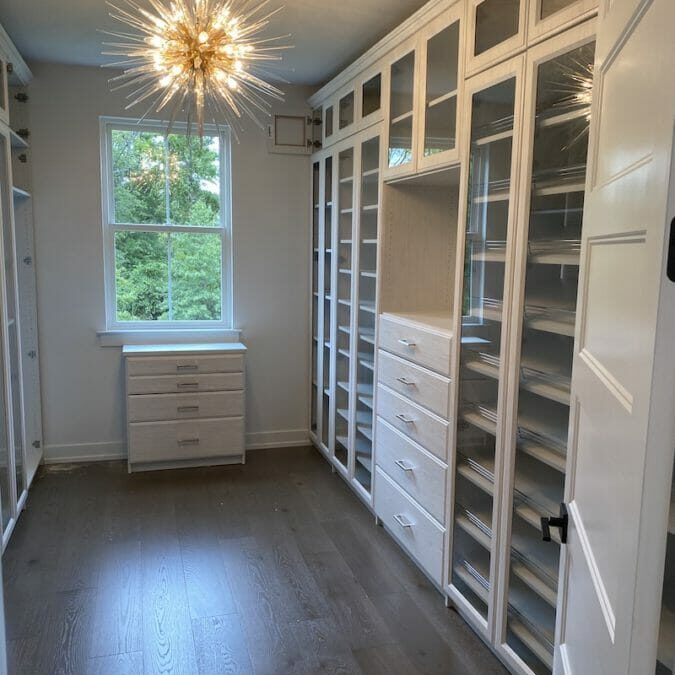 Reach-in closets are best for simple, efficient storage in a small space. Our custom reach-in closets offer the perfect solution for organizing your clothes and accessories with ease. We have a variety of design options to choose from, including hanging rods and shelves, drawers, baskets, and more. 
A wardrobe can help you maximize storage space in your home. With our custom wardrobes, you can create the perfect closet for any size room or budget. We offer a wide selection of styles and materials to suit your needs. From traditional wood finishes to modern metal frames, we have something for every taste and budget.
Local. Affordable. Professional.
Choosing the Perfect Design for Your Custom Closet in Lower Gwynedd
Our experienced team will help you create the perfect closet for your lifestyle and budget. We offer a wide range of design options tailored to suit your needs, whether you want something simple or more extravagant.
Here are three tips to help you:
Determine Its Function
What type of storage do you need? For example, do you prefer hanging rods and shelves or drawers and cabinets? Are specific items, such as jewelry, requiring unique storage solutions? Answering these questions will help determine the design of your custom closet.
The area where you'll be placing your closet will also affect its design. For instance, if you want a custom pantry, you'll need to consider the size and shape of the space and the food products you'll be storing. Likewise, if you need a closet for your laundry and mud rooms, you'll have to consider the number of clothes, towels, and other items that need storage.
Know Your Habits
Different people have different preferences in their daily routines. Your closet should help you go about your day easier. Before deciding on a design, think about how you use your cabinet. 
Do you like to keep all your clothes in one place or separate them by type? Do you need extra space for long dresses and coats? Do you have a lot of shoes, bags, and accessories? Knowing the answers to these questions will help determine the best concept for your new closet.
Consult with Professionals
Now that you have a vision for your ideal closet space, it's time to consult with professionals. We've been in the industry for over 15 years and can offer expert advice and guidance on your custom closet design. 
We will help you choose a layout that maximizes storage space and pick out colors and materials to create an aesthetically pleasing look for your closet.
Installing Custom Closets in Lower Gwynedd: Our Step-by-Step Guide
Take a look at our straightforward process:
Consultation
Our closet expert will visit your home for a free design consultation to measure your space and discuss the best ways to maximize storage. Then, we'll consider your needs and help you choose the perfect design for your home.
Design & Estimates
Once we clearly understand your needs, we will work with you to design the perfect closet system. We offer free estimates on all custom closets and can provide 3D renderings of your design before installation.
Design Revisions
Since your closet should be tailored to your needs, we offer design revisions with every project. Our team can work closely with you to ensure that your closet will be everything you imagined it could be.
Installation
After approving the design, we'll work on bringing your custom closet to life. Our experienced professionals will come out and construct the cabinet and install it in your home. Of course, we'll ensure that everything is perfect before we leave.
Ready to Get Started?
Schedule your free design consultation and let us help you make your walk-in closet dream come true!
Custom Closet Design Trends in Lower Gwynedd: Colors and Lighting
Some tips to help you maximize colors and lighting for your custom closet:
Colors
Select a color that complements the rest of your home.

Choose two to three colors for contrast and texture. This is especially important to create interest in an all-white closet or pull the eye away from areas you don't want people to focus on. 

You can use bold colors on the wall behind the closet for an accent.

Neutral colors like whites, beiges, and grays can be calming. 
Lighting
Choose warm and inviting lighting to set the tone for your wardrobe. 

Opt for LED lighting over incandescent or fluorescent bulbs, as these lights are more energy efficient and longer lasting.

Consider using lights with a motion sensor, so you don't have to fumble around in the dark when entering your closet.

Put a dimmer switch on a wall near the entrance of your wardrobe so you can adjust the light level depending on what you need.
Schedule Your Free Closet Design Consultation Today!
At Closets For Less, we strive to provide our customers with the best quality custom closets in Lower Gwynedd. So whether you need additional storage space for your bedroom or an organizational solution for a walk-in closet, we can help create the perfect solution. 
You can rest assured that you'll be getting the best value for your money with our competitive pricing and superior craftsmanship. Contact us today to discuss how we can help make your home more organized and efficient.
What are some standard custom closet design options available to homeowners?
We offer walk-ins, reach-ins, and wardrobes for all types of spaces. Our custom closets can also be created for pantries, laundry rooms, mud rooms, and garages. Our designers work with you to create the perfect cabinet for your needs.
How can you find the right custom closet provider in Lower Gwynedd?
It all boils down to expertise and experience. At Closets For Less, we've provided top-notch custom closets and storage solutions to Lower Gwynedd residents since 2007. As such, you know you're getting the best in quality and value when choosing us for your custom closet needs.
How much does it cost to get a custom closet installed in Lower Gwynedd?
The average cost for a custom closet falls between $500 - $2500, depending on the type of closet. But, of course, additional details, such as wall texture, materials, and the type of closet system you choose for your Lower Gwynedd home, will influence the final cost.
How can you maintain and keep your custom closet organized over time?
To maintain and keep your things organized, we advise that you take a few minutes each week to put items back in their place and keep your closet neat. Additionally, our custom closets are designed with adjustable shelves and hanging rods, so you can easily customize the space as your needs change.
What other storage solutions can be combined with custom closets in Lower Gwynedd homes?
Custom closets can be combined with many other storage solutions to make it easier for homeowners to maximize their space. These solutions include wall-mounted cabinets, hanging shelves, drawers, pull-out baskets and bins, shoe racks, and even built-in bookcases. 
Custom Closet and Organizing Solutions